Event Invitations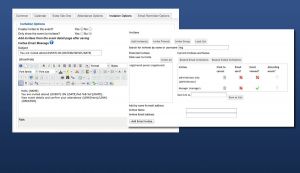 The RSVP Pro addon for JEvents Club Gold members allows the event creator/JEvents admin users to send email based invitations to registered users of your site or other people using email addresses.

You see a summary of which invitees have viewed the events and which have accepted or declined the invitation.

You can save lists of invitees to re-use another time.  You can invite your JomSocial or Community Builder friends as a group.

You can setup a list of users to autoinvited to each newly created event.

You can make events private to invitees to that non-invitees don't see the event.

The invitation message can be customised on an event by event basis.

A demo video of this functionality is available.