Welcome to the Quick Install Guide based on JEvents 3.x and Joomla! 2.5.x.

1. Proceed to the JEvents Download area and download the JEvents Component.
2. Login to your Joomla! Administrator interface, select Extensions, Extension Manager.
3. Make sure you are on the Install screen, next click 'Choose File' and browse our computer for the JEvents Component file which you downloaded in step 1, once found click it and click open. Now click Upload & Install.
4. You should now be taken to a Database Setup, and a Continue button. Click Continue and you should be taken to the JEvents Control Panel screen, as follows:



5. Now click Configuration and edit acordingly. Once you have finished editing it click Save & Close.
6. To view the calendar in the front end of Joomla! you need to create a Joomla! Menu Item, click Menus and select the menu which you want people to access JEvents from. Create a new menu item, select ' Jevents View by Month ' (This can be changed later if you want a different list view).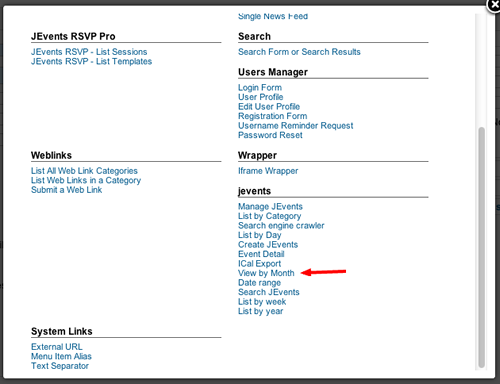 Do NOT select any categories from the menu item's parameters unless you want to restrict the calendar to only them categories. Click Save.

You can now access your jevents calendar from the front end and backend.

Should you have any question or problems please do not hesitate to post on the Forums.