This is a new module that allows you to aggregate a series of Latest Events Modules together in a tabbed layout.
These screenshots were taken on 10 January 2012 and they show the events occuring 'Today' and 'Today + 3' days.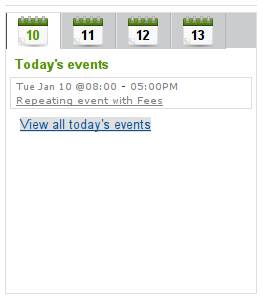 The Tabbed Modules addon displays a series of latest events modules as displayed above (note that in this case we display up to "Today + 3" days but we can go as far as "Today + 6" to give a whole week of results). Note too that the module can be configured to 'preload' the non-active tabs or load them on demand (to save processor load).