This is a quick intro video to Attend Jevents - the advanced events registration addon for JEvents, available to Gold club members. This allows you to build sophisticated registration forms for non-repeating events. Please note that this addon works with Joomla 1.5 only - fore event registrations in Joomla 2.5+ you should see the demos of RSVP Pro.

This video shows a demonstration of the advanced event attendance plugin available to gold club members.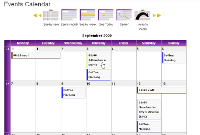 For simpler version available to silver members see this video.