The sub menu items under Demo show various JEvents layouts - they are only a sample.  Also you should try switching layouts using the "Switch Layout" module on the right side of the page.
We have created 4 demo accounts that you can use to add events to JEvents 2.x.
| | | | | |
| --- | --- | --- | --- | --- |
| Username | Password |   | Username  | Password  |
| demo | demo |   | demo3 | demo3 |
| demo2 | demo2 |   | demo4 | demo4 |

You can then add or modify events and see for yourself how powerful and easy to use JEvents is!  When you click on one of the "Demo" sub menu options you will see the option to add an event at the bottom of the calendar or via the "+" icon on each day of the calendar.  These events are cleaned out automatically after 24 hours.

Demo Highlights

You can try out the different demos by clicking the links beneath the thumbnails or selecting the submenu items under Demo in the Top Menu.


Note that the demo features a few addon features available to JEvents club members.
The Ruthin. Extplus and Iconic Layouts (which are available in several colour themes) - use the layout switcher to try the different layouts.
The Manged Locations Addon with google maps
The simple event attendance registration plugin
Private User specific events
Custom fields addon
Please let us know how you get on at the JEvents Forum.
p.s. If you use JEvents, please post a rating and a review at the Joomla! Extensions Directory.

This video shows a demonstration of the advanced event attendance plugin available to gold club members.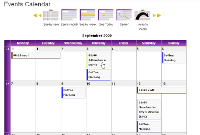 For simpler version available to silver members see this video.